Welcome to Cedar and Holly Class Learning Page 
WC 31st October
The children have come back to school ready to learn after their holiday. We have been discussing Autumn this week and learning all about the season. In English we read some Autumn poems and wrote our own. The children using adjectives and verbs to make their poems exciting.
In Maths we have been learning about the 'Part, Part Whole Model'. We have been using this model to split numbers 2 to 10.
We have learned about The Gunpowder Plot in History, how to sort shapes in ICT using 'Purple Mash' and started to look at 'Pop Art' in Art.
We had a great day on Wednesday 5th October taking part in our 'Superhero dressing up day.' We had an assembly in the morning where we saved some animals in the hall and we then did a superhero parade showing off our costumes. We completed some design and technology work where we made levers.
We had a great day!
WC 12th December
A big thank you to all who came to see our Christmas performance, we had a wonderful time! We also enjoyed the Reindeer dash!
And are looking forward to party day and the panto next week!
Merry Christmas and a happy new year!
Summer 1
WC 24th April
We have enjoyed participating in Drumba! Drumba is a high energy fitness activity that combines drumming, music and physical activity. It's so much fun! The aim is to promote being physically active, engage and excite our pupils about being active all whilst learning music skills!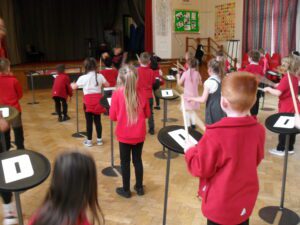 Click here to view Cedar And Holly Parent Information Letter Summer 2
Click here to view how we teach Phonics And Reading at TV through the Little Wandle Phonics Scheme
Click here to go to the Little Wandle Letters and Sounds Website 
Click here for The Year 1 And Year 2 Parents Information Leaflet 2022