Welcome to Oak Class
27/01/23: In maths we have started to make connections between fractions , decimals and percentages. We can now calculate a fraction as a decimal and know how to represent a recurring decimal number. We continued our investigations on the reflection of light this week creating periscopes and explaining them in terms of angles, incidence of ray and reflection  and direction of light. We looked at the history of periscopes and how these were used first by sailors in around 1860 and in the First World War for soldiers to see above the trenches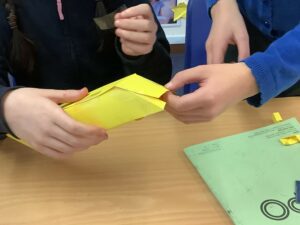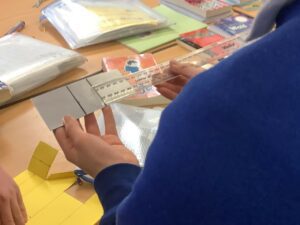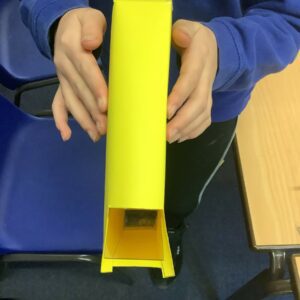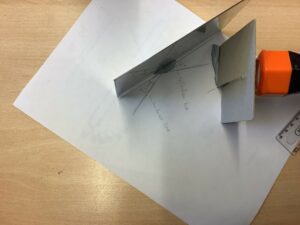 20/01/23: We have investigated the reflection of light during Science linking it with maths and angles. Not only did we manage to reflect light using the ray of incidence we also saw the ray of reflection and then measured this to make sure the two angles were the same. Some of us had to repeat our experiment to double check our data but that's ok because scientists regularly repeat experiments to check on their findings. We have looked at the 50 States of the USA and tried to remember more along with using directions to describe where they are located. During Art, we investigated Pop Art especially the work of Andy Warhol.
13/01/23: This week we welcomed back Ms Jones. We  learned some Jive dance moves  in PE (and improved our archery skills instead of gymnastics due to the hall floor issue!) and listened to and appraised the music of Bon Jovi ( Livin' on a Prayer) Decimals has been the focus in maths and our "Flashback Friday" maths reminded us of our translations, reflections and coordinate work. Apostrophes still seem to be the getting the better of some of us so we have looked at where to correctly insert an apostrophe for possession.
HAPPY NEW YEAR!
06/01/23:  I hope you have all had a lovely Christmas and managed to spend some good quality family time together making memories. It has been lovely to welcome the children back who have made a super start to the Spring term.
Attached are the weekly spellings and homework for next Friday along with our Spring term overview.
Y5 6 Overview For Parents Spring 1
02/12/22: We have had a very busy 2 weeks in Oak class. We enjoyed using our dance skills and being expressive and creative during out "Thriller" dance workshop; we have all used our physics knowledge in repairing short circuits in electricity and have found out about different voltage in batteries and why a circuit may not work if the voltage is incorrect. Being historians meant we could look at sources of evidence and decide who was to blame for the murder of Thomas Beckett and using our Art skills we have all created wonderful sketches of gargoyles using perspective, light and shade. Our understanding of fractions has soared; we are now able to reason, and problem solve by comparing denominators; changing mixed numbers to improper fractions; adding and subtracting mixed denominators and can even multiply fractions by integers.
18/11/22: This week we visited the National Justice Museum in Nottingham to investigate Crime and Punishment throughout history. We investigated artefacts ranging from a Scold's Bridle to a Cat-O-Nine Tails, and even had to endure some punishments ourselves like Oakum picking, turning the Crank and even replicating some hard labour! We met both a Georgian Gaolar and a Victorian Matron who worked within the prison and learnt how prisoners were treated- harshly and inhumane at times.
Our visited was completed with us learning more about the justice system. We visited the original Magistrates Court (which was still in use up to the late 1980's) and then found out about a young Victorian girl who was suspected of theft. We put our drama skills to use by completing her trial. Our parts ranged from Judge Murphy, defence and prosecution barristers, witnesses, the jury and of course not forgetting the accused herself- Isabella Makin.
Although our jury found her "not guilty" the case was based around evidence from an actual trial from 1830 where the child was found guilty and sent to prison to serve 6 months of hard labour.
11/11/22: We have now been back for two weeks and so much has happened. Many of us visited PGL at Boreatton Park last week. We conquered our fears; took on responsibility for our own belongings and showed empathy and compassion towards each other. We worked on our resilience, showed great determination as well as being tolerant towards each other.  PGL staff commented on the exemplary behaviour and attitude of all children. Those children who remained in school had a great few day too where we looked at personification in English and created some great poetry. Their behaviour too was fantastic especially showing kindness and empathy towards our younger children.
We have started to write our own narrative short stories based on the Night of the Gargoyles and completed our multiplication and division block in maths looking at the order of operations using BODMAS.
Science is linked to electricity this half term and we refreshed our knowledge of previous learning in Yr 4.
We have so much to look forward to this half
term. Please read our Autumn 2 overview.
13/10/22:  Happy Half term!
What a busy 4 days we have had! We've written our instructions to "Slay a Vampire"; conquered short division and started to understand how to calculate long division.
In art we finished our own "Scream" compositions based on the Norwegian Symbolist painter, printmaker, and an important forerunner of expressionist art, Edvard Munch.
We know the months of the year in German, logged on to Times Table Rockstars (https://ttrockstars.com/) and enjoyed our second "Let's Get…." session.
07/10/22: We've investigated vampires looking at ways to spot them and what qualities they possess. Our aim know is to know how to slay one should we unfortunately come across one of these fiends. Our vocabulary is really improving as we make more independent use of a thesaurus.
Long multiplication and reasoning tested our knowledge of our multiplication facts- practise, practise, practise!
Pantasaurus told us his story of how to stay safe and we discussed what is a bystander. Our religion in our community work took us on a short walk to the Heritage Centre where we made Diwali Dias; dressed in traditional costume and were reminded of the story and religious significance of the story of Rama and Sita.
30/9/22: This week the children have enjoyed their second session of Forest schools where they were able to use hand tools and work safely using the campfire. The skills of: Team building, resilience and co-operation were developed.
The Night watchman has continued to be terrorised by the pesky gargoyles in our English work where we have written a description in the third person using prepositional phrases as well as a 1st hand account for a diary entry.
Maths continues to look at properties of number : prime numbers, prime factors and factor trees, square and cube numbers.
In Geography we located continents, countries and capital cities using longitude and latitude.
Next week we look forward to our local trip to the Canalside Heritage Centre for Diwali activities.
Packing List Yr6 Residential 2022
23/09/22: After the sad passing of our Queen and the Bank holiday which allowed us to watch her funeral, we have still packed so much into our shorter week.
Our visit to the local Hindu temple enabled us to see how religion is celebrated in our local community and we were able to see, firsthand, features of a Hindu Mandir and meet the priest.
On Friday all Year 6 visited Holme Pierrepont for our Safety Zone Visit. The behaviour of the children was commented on by the many providers and we were super proud to have taken them.
Along with our two visits, we have continued looking at the properties of number investigating factors and multiples and used semi-colons to replace conjunctions when two clauses were related in our English work.
16/09/22: This week we have found out what actually happened to Mr Jones; he has been terrorized by the pesky gargoyles! The children have written some detailed descriptions using noun phrases and precise vocabulary.
In maths we have continued with place value rounding integers and using negative numbers in context.
After researching myths and legends from the UK we have gone further afield – to Europe- looking at countries, their location using compass points and have started to be more precise using longitude and latitude.
09/09/22: This week we have started our Literacy topic with a crime scene trying to work out what had happened to the character of Mr Jones. We now know his fate was due to some pesky gargoyles!
We also enjoyed our morning with Mrs Heath building dens, pond dipping and developing our teamwork, resilience and co-operation skills during Forest School.
Our knowledge of place value has increased into tens of millions and how powers of ten can increase or decrease values.
We located counties in the UK where myths and stories have passed down throughout history for example the Lincoln Imp, Mother Shipton and The Hairy Hands of Dartmoor.